The Daily Mail reports that Prince William's cousin Zara Phillips is giving herself a new royal title: Lady Banana of Matrimony II.  Zara is engaged to marry her longtime rugby star boyfriend.  She's beautiful, blonde, and will no doubt have a flawless wedding. BUT, you see, she's managed to schedule it a few months after Wills and Kate's to-do, therefore, the court graphic design team is very busy developing a new family crest featuring two majestically yellow pieces of fruit.  According to palace insiders, several designs have already been discarded as "too Tommy Bahama."
After all, being 12th in line to the throne is very serious business, indeed.
From the ever-breathless People magazine…
Prince William's Cousin Zara Phillips Sets Her Wedding Date
By Simon Perry
Wednesday March 09, 2011 04:00 PM EST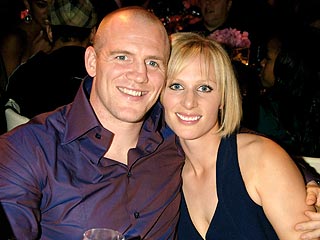 Mike Tindall and Zara Phillips
Dave M. Benett/Getty
Pencil in another royal wedding on your calendar.
After much speculation about the date, Prince William's cousin Zara Phillips and her fiancé, rugby player Mike Tindall, have decided to marry on July 30 in Edinburgh, Scotland.
A simple statement was issued by the press secretary to Queen Elizabeth, Zara's grandmother, on Wednesday. "Miss Zara Phillips and Mr. Mike Tindall will be married at the Canongate Kirk, Edinburgh, on Saturday, 30th July," it read.
Phillips, 29, the daughter of William's aunt, Princess Anne, is 12th in line to the throne. She and Tindall announced their engagement in December.Like William and Kate Middleton, who will wed April 29, Phillips and Tindall will have their post-nuptial reception at a palace – in their case, the Palace of Holyroodhouse in Edinburgh.
Congratulations Zara…it's all in good fun my dear.  Jolly good fun.